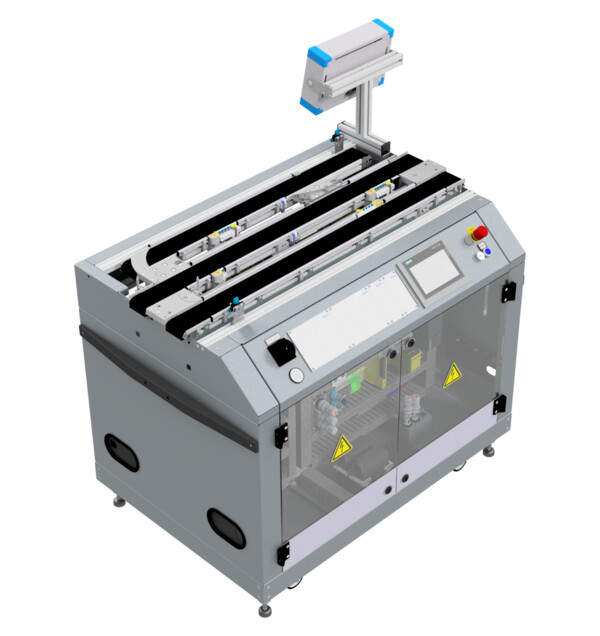 General

| | |
| --- | --- |
| Order number | D14008 |
| Type code | CP-F-BYPASS |
| Series | CP Systems |
| Sub series | CP Factory |
| Categories | Base module |
Description

This base module creates a linear material flow in two directions. It also provides two work positions for application modules, one of which can by bypassed. An automated junction lets carrier which don't have to go to the application module around it. That can reduce hold-ups in the material flow.
The base module Bypass comes with a PLC and all interfaces for working with any application module and MES4.
This base module is especially well souted for application modules with very long working times.
Attribute
Value
Mounting positions for application modules
2
Electrical connection
CEE (16 A) for connecting to room infrastructure
Preconfigured modular plug for connecting to another CP Factory station
Pneumatic connection
Hose coupling for connecting to room infrastructure
Preconfigured modular plug for connecting to another CP Factory station
Operating voltage
400 VAC
Operating pressure
6 bar
2x Controller
Siemens CPU 1512SP
One PLC per half of the station. One of both halves encompasses the bypass belt as well as the third belt with the application module.
2x HMI
Siemens Simatic TP700 Comfort
One HMI panel per PLC
I/O for base module
8 DI / 4 DO onboard for PLC +K1-K5-KF1
20 DI / 11 DO onboard for PLC +K3-K5-KF1
3x Stopper unit
Pneumatic stopper cylinder with one end-position sensor
4x carrier detection & identification: inductive
RFID Read-Write-Head
Belt drive
24 VDC motor
bi-directional controller with slow and high speed
RFID
2x Turk BLCEN-2M12MT-2RFID-A bus node with 3 read-write-heads
Junction
Pneumatic rotary cylinder with two end-position sensors
Other sensors
4x carrier detection: optoelectrical
Sensors for collision avoidance when joining belt and bypass
Dimenions (H x W x D)
980 mm x 1200 mm x 800 mm

---

Side without bypass (PLC +K1-K5-KF1)

Description
Reference
Datatype
Address
Inputs
FALSE = Emergency stop not acknowledged
+K1-F2-KF1
Bool
%I0.0
TRUE = Stopper cylinder in lower end position
+G1-BG20
Bool
%I1.0
TRUE = Carrier ident code bit 0 detected
+G1-BG21
Bool
%I1.1
TRUE = Carrier ident code bit 1 detected
+G1-BG22
Bool
%I1.2
TRUE = Carrier ident code bit 2 detected
+G1-BG23
Bool
%I1.3
TRUE = Carrier ident code bit 3 detected
+G1-BG24
Bool
%I1.4
TRUE = Carrier detected at conveyor entry
+G1-BG26
Bool
%I1.6
TRUE = Carrier detected at conveyor exit
+G1-BG27
Bool
%I1.7
Outputs
TRUE = Drive belt in forward direction
+K1-QA1:A1
Bool
%Q0.4
TRUE = Drive belt in reverse direction
+K1-QA1:A2
Bool
%Q0.5
Select belt speed (FALSE = normal, TRUE = slow)
+K1-QA1:A3
Bool
%Q0.6
TRUE = Move stopper cylinder down
+G1-MB20
Bool
%Q1.0

Side with bypass (PLC +K3-K5-KF1)

Description
Reference
Datatype
Address
Inputs
FALSE = Emergency stop not acknowledged
+K1-F2-KF1
Bool
%I0.0
TRUE = Stopper cylinder (branch) in lower end position
+G2-BG20
Bool
%I1.0
TRUE = Carrier detected at stopper (branch) / Stopper (branch) carrier ident code bit 0 detected
+G2-BG21
Bool
%I1.1
TRUE = Stopper (branch) carrier ident code bit 1 detected
+G2-BG22
Bool
%I1.2
TRUE = Stopper (branch) carrier ident code bit 2 detected
+G2-BG23
Bool
%I1.3
TRUE = Stopper (branch) carrier ident code bit 3 detected
+G2-BG24
Bool
%I1.4
TRUE = Carrier detected at conveyor entry (bypass belt)
+G2-BG26
Bool
%I1.6
TRUE = Carrier detected at conveyor exit (bypass belt)
+G2-BG27
Bool
%I1.7
TRUE = Stopper cylinder (application belt) in lower end position
+G2-BG30
Bool
%I3.0
TRUE = Carrier detected at stopper (application belt) / Stopper (application belt) carrier ident code bit 0 detected
+G2-BG31
Bool
%I3.1
TRUE = Stopper (application belt) carrier ident code bit 1 detected
+G2-BG32
Bool
%I3.2
TRUE = Stopper (application belt) carrier ident code bit 2 detected
+G2-BG33
Bool
%I3.3
TRUE = Stopper (application belt) carrier ident code bit 3 detected
+G2-BG34
Bool
%I3.4
TRUE = Congestion on application belt detected
+G2-BG35
Bool
%I3.5
TRUE = Deflector arm closed (carrier continues straight on bypass belt)
+G2-BG40
Bool
%I4.0
TRUE = Deflector arm opened (carrier gets diverted to application belt)
+G2-BG41
Bool
%I4.1
TRUE = Stopper cylinder (junction) in lower end position
+G2-BG42
Bool
%I4.2
TRUE = Carrier detected at stopper (junction)
+G2-BG43
Bool
%I4.3
TRUE = Congestion on bypass belt detected
+G2-BG44
Bool
%I4.4
FALSE = Junction occupied by carrier
+G2-BG45
Bool
%I4.5
Outputs
TRUE = Drive bypass belt in forward direction
+K3-QA1:A1
Bool
%Q0.0
TRUE = Drive bypass belt in reverse direction
+K3-QA1:A2
Bool
%Q0.1
Select bypass belt speed (FALSE = normal, TRUE = slow)
+K3-QA1:A3
Bool
%Q0.2
TRUE = Drive application belt in forward direction
+K3-QA2:A1
Bool
%Q0.3
TRUE = Drive application belt in reverse direction
+K3-QA2:A2
Bool
%Q0.4
Select application belt speed (FALSE = normal, TRUE = slow)
+K3-QA2:A3
Bool
%Q0.5
TRUE = Move stopper cylinder (branch) down
+G2-MB20
Bool
%Q1.0
TRUE = Move stopper cylinder (application belt) down
+G2-MB30
Bool
%Q3.0
TRUE = Close deflector arm (let carrier continue straight on bypass belt)
+G2-MB40
Bool
%Q4.0
TRUE = Open deflector arm (divert carrier to application belt)
+G2-MB41
Bool
%Q4.1
TRUE = Move stopper cylinder (junction) down
+G2-MB42
Bool
%Q4.2

---