Transfer System Module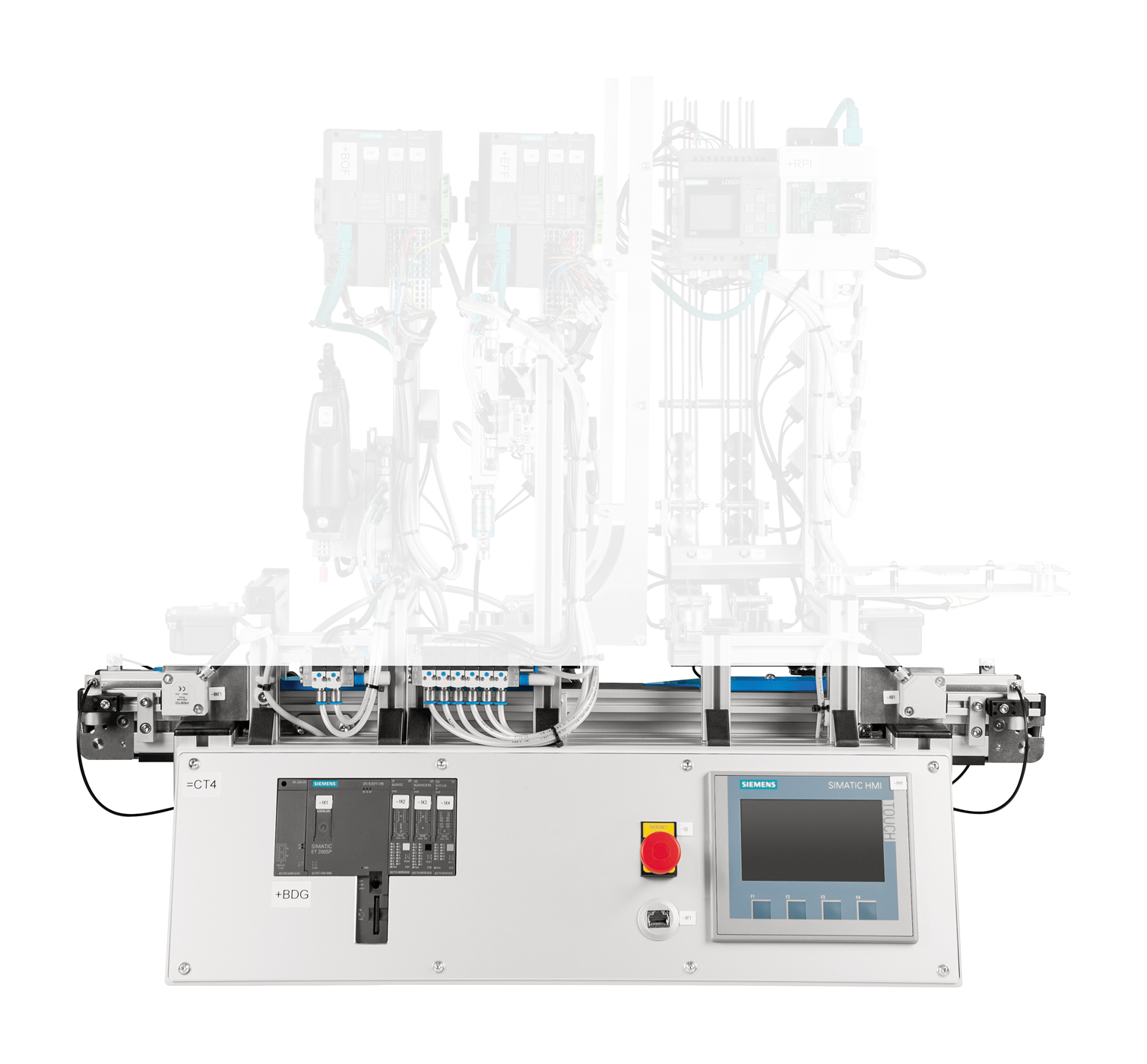 Function

The transfer system is used to transport the workpieces. Presence of the workpieces at the beginning and end of the conveyor is substantiated by optical through-beam sensors with fiber-optic cables.
The module is fully assembled. Clockwise and counterclockwise motor operation (forward/reverse), as well as low-speed operation, can be selected with the integrated motor controller.

The conveyor belt is driven by means of a DC geared motor.

An emergency off mushroom actuator interrupts power supply to the actuators directly, and must be unlocked after actuation.

The Simatic S7-1500 CPU1512SP-1PN main controller and the KTP400 Basic display and control unit are installed to the front panel of the carrier system. The DC wattmeter for measuring power at electrical power consumers is located on the inside of the front panel. A network switch is mounted at the back.

Equipped with the MPS SensLink interface, the MPS TS Compact Trainer I4.0 can be integrated into a broad range of learning scenarios.
Pin Allocation Table

ID
ET200SP Profinet‑Device
Designation
+BDG
IP-Adresse: 192.168.0.1
Installation location
-8B1
I1.0
Coupling sensor receiver
(0 = right follow-up conveyor is occupied)
-1B1
I1.4
Through-beam sensor at beginning of the transfer line
-S5
I1.5
Emergency stop button, transfer line
-1B3
I1.6
Through-beam sensor at end of the transfer line
-8K1
Q1.0
SensLInk sender (1=transferline is busy)
-2Q1_A1
Q1.4
Conveyor drive clockwise rotation (forward)
-2Q1_A2
Q1.5
Conveyor drive counter-clockwise rotation (backward)
-2Q1_A3
Q1.6
Conveyor drive slow speed
-2Q1_STO
Q1.7
Conveyor drive stop