Pick-by-Light Manual Workstation Module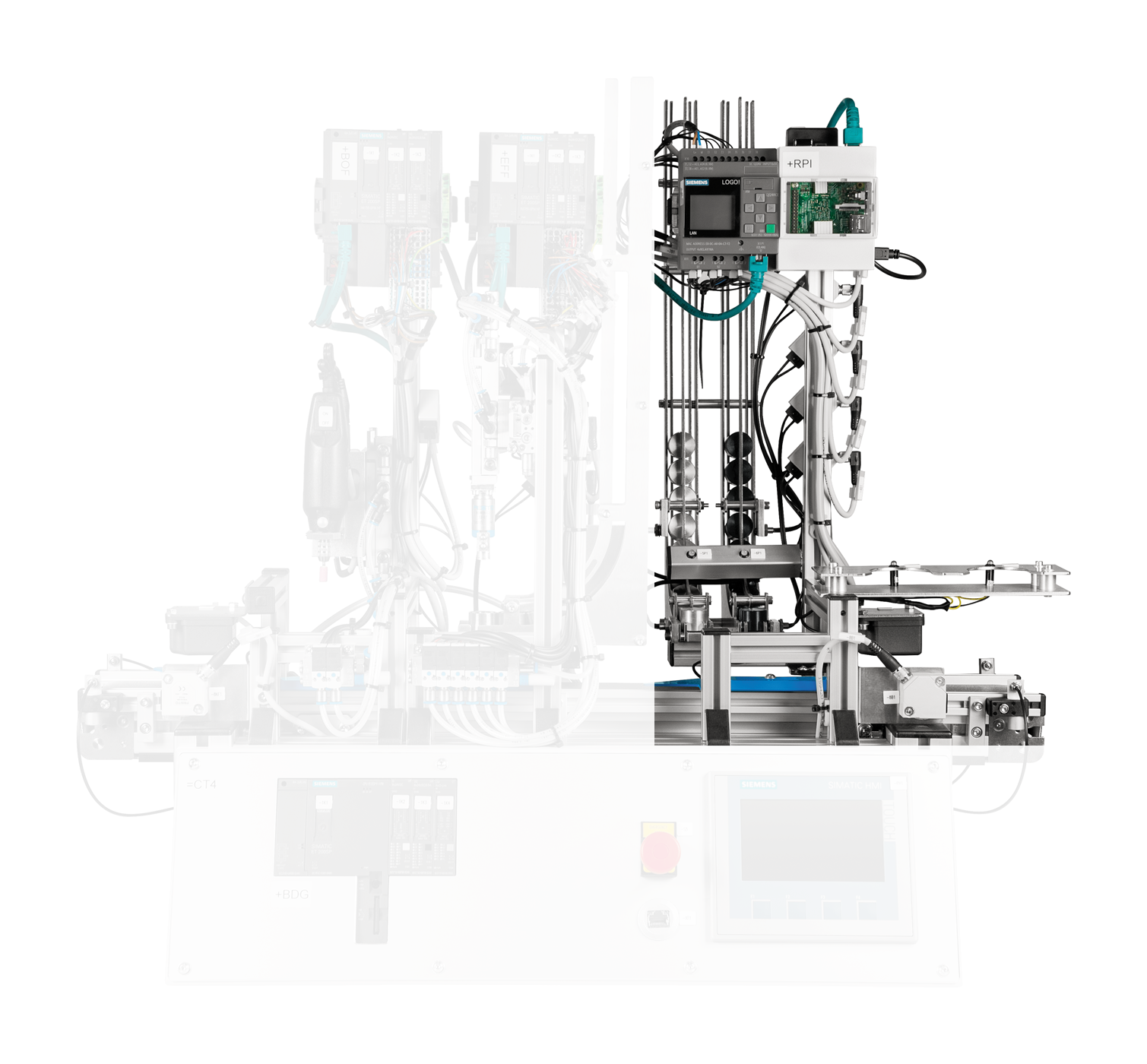 Function

An operator manually inserts bearing hubs into the unfinished bearing roller at the pick-by-light manual workstation module. The workpieces are advanced to a defined position by the transfer line with the help of a baffle plate. A through-beam sensor detects the workpiece (bearing roller). The transfer line is stopped. The operator then removes the bearing roller from the conveyor belt and places it into the assembly tray.

The assembly tray has two assembly locations. The required assembly location in the assembly tray is indicated by means of a blue LED:

Position 1 (-7P1): assembly
Position 2 (-8P1): rework

The gravity-feed magazine for the bearing hubs allocated to the respective work step is indicated to the operator at the pick-by-light module by an LED. The operator grasps the bearing hubs and inserts them into the roller. The finished assembly is then returned to its previous conveyor belt position. The workpiece is detected by the through-beam sensor, the transfer line is started and the workpiece advances to the RFID reader.
Pin Allocation Table

BMK
ET200SP Profinet‑Device
Designation
+HAL
IP-Adresse: 192.168.0.13
Installation location
-4B1
I1
Through-beam sensor, workpiece in module
-5B1
I2
Magazine 1, aluminum bearing hub in pick position
-6B1
I3
Magazine 2, POM bearing hub in pick position
-7B1
I4
Magazine 1, aluminum bearing hub fill-level
7 pieces remaining
-8B1
I5
Magazine 2, POM bearing hub fill-level,
7 pieces remaining
-5P1
Q1
LED indicator, pick-by-light, magazine 1:
pick aluminum bearing hub
-6P1
Q2
LED indicator, pick-by-light, magazine 2:
pick POM bearing hub
-7P1
Q3
LED indicator, tray position 1: assembly
-8P1
Q4
LED indicator, tray position 2: rework