Drilling Module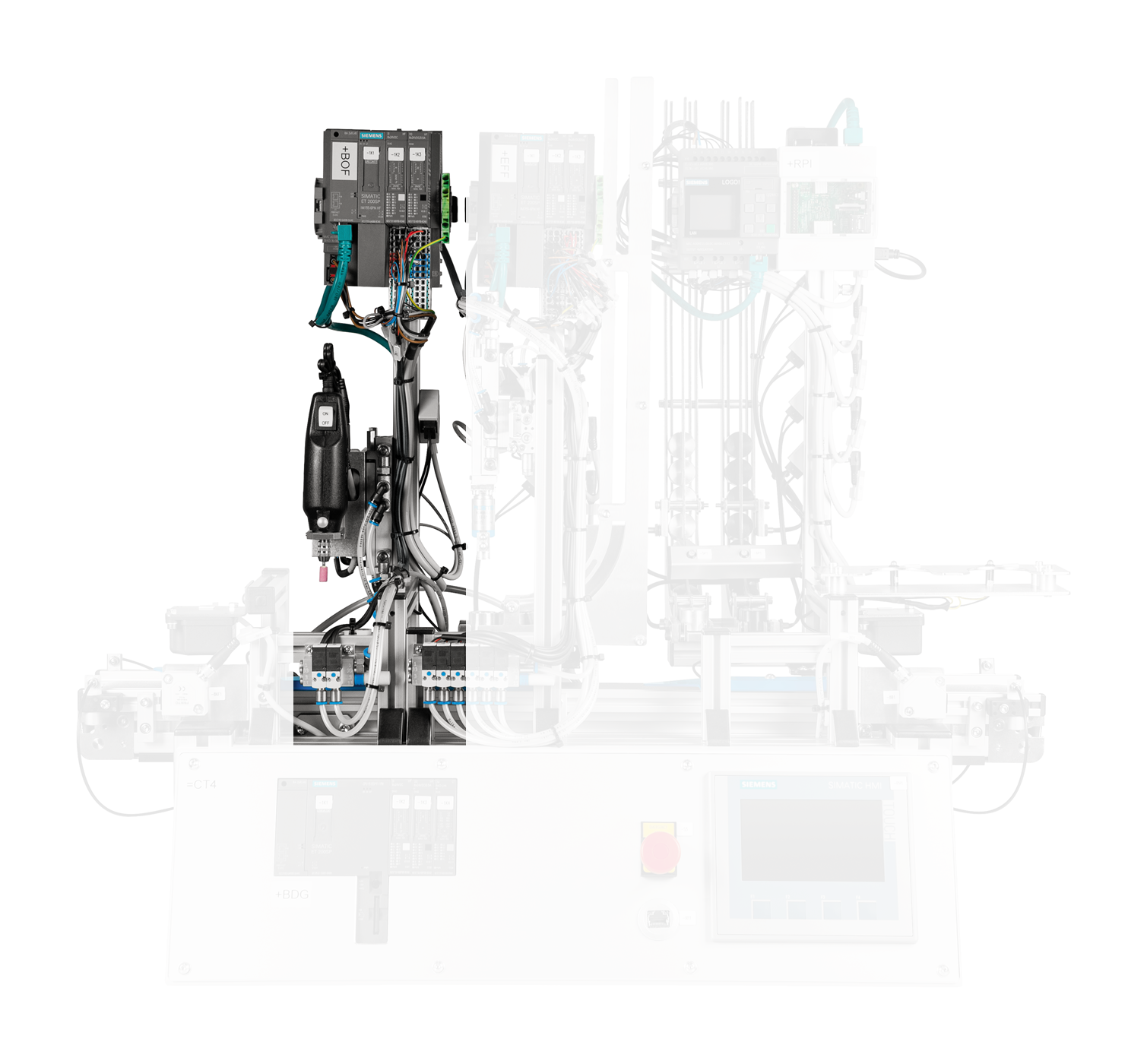 Function

The task of the drilling module is

to move workpieces to the correct position and
to machine the workpiece by adding a drill hole (simulated).

The module drills workpieces (symbolically). The workpieces are detected on the conveyor belt by an optical diffuse sensor. The drilling machine is moved down by means of a pneumatic slide.

Advancing and retracting speed of the linear slide can be infinitely adjusted with the help of one-way flow control valves.

If a workpiece is positioned underneath the drilling machine by the transfer system via the baffle plate, and if the fiber-optic cable at the baffle plate detects the workpiece, the conveyor belt is stopped and an automatic sequence is started. The linear slide moves down and symbolically drills a hole. The linear cylinder then travels back up to its initial position. When the linear slide is at the top, the conveyor belt is re-started and the workpiece leaves the module.
Pin Allocation Table

| BMK | ET200SP Profinet‑Device | Designation |
| --- | --- | --- |
| +BOF | IP-Adresse: 192.168.0.11 | Installation location |
| -1B1 | I100.0 | Reed switch, linear slide, drill up |
| -1B2 | I100.1 | Reed switch, linear slide, drill down |
| -4B1 | I100.3 | Through-beam sensor, workpiece in module |
| -1M1 | Q100.0 | Solenoid coil, linear slide, drilling machine up |
| -1M2 | Q100.1 | Solenoid coil, linear slide, drilling machine down |
| -11Q1 | Q100.2 | Starting current limiter for drilling machine power-up |