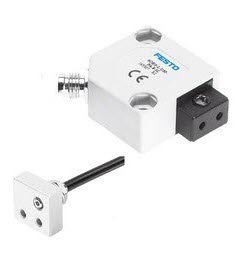 Function
With the two included optical sensors, so-called reflected light sensors, different surfaces and colors can be recognized due to the different reflectance. The sensors can be used to guide Robotino along a defined path or to stop in a specific position with high accuracy.


Assembly and connection
The installation of the optical sensors is described in the manual:
Programming
The optical sensors are evaluated via a digital input of the I / O interface.


Technology
Flexible optical fibers are connected to the optical fiber device of the optical sensor. The light guide device works with visible red light. The reflected light is detected. Different surfaces and colors change the reflectance. However, a gradual difference in the reflected light can not be detected.


Technical documents
The scope of delivery includes two optical sensors of the type SOEG-L-Q30-P-A-K-2L (optical fiber device) from Festo.