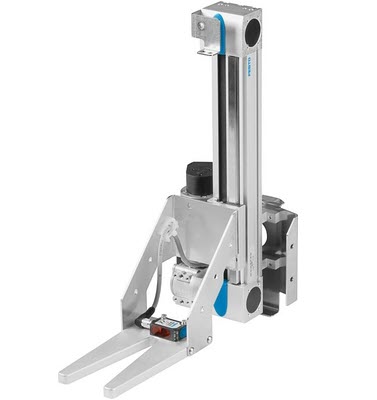 Function
With the flexible forklift truck, the Robotino functions as a driverless transport system in a production environment, for example. The basics and details of automated logistics can be conveyed with this extension of the application spectrum.
Assembly and connection
The assembly is carried out in the loading bay of the Robotino with the assembly material included in the scope of delivery. The electrical connection of the forklift truck is possible via the existing additional engine control. The power supply and the incremental encoder are connected directly to the motor board. Program the function of the forklift truck in Robotino View or via the OpenRobotino programming interface. In Robotino View, you can set the axis speed from -100% to 100% with the "Power output" device module. and read out the axis position and the speed of the linear axis with the "Encoder input" device module.
Technical documents
| Parameter | Value |
| --- | --- |
| maximum load | 4 kg |
| maximum stroke | 160 mm |
| Proximity switch for end position control | 2 |
| Light reflex sensor for pallet control | 1 |
| self-centering pallets (included) | 2 |
| Connection | via motor control and encoder input |
| Compatibility | Robotino 3, Control board EA09 |