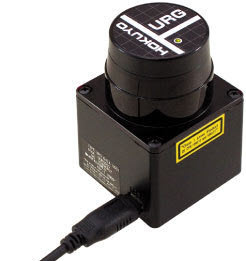 Function
The laser scanner for Robotino enables map generation, localization and navigation as well as obstacle detection through the digital detection of objects in one plane. The Hokuyo URG-04LX-UG01 2D laser scanner can be mounted below the stereo camera for a panoramic view and in the Robotino loading bay to avoid collisions. The connection to the control unit is made via a USB interface, which also provides the power supply. The laser scanner is fully integrated into the Robotino software architecture. Robotino View as well as self-developed control programs can access the measured values of the laser scanner.
Configuration
The laser scanner is addressed with the function block 'Laser Range Finder' in Robotino View. If the laser scanner is connected, the data can be processed further.
Assembly and connection
The laser scanner is attached to the front panel of Robotino with a mounting bracket and connected to the control unit via a USB interface.

Technical documents
Robotino can optionally be equipped with the Hokuyo URG-04LX-UG01. Included in delivery is also the mounting bracket and the mounting kit.